What Do The Hubs Look Like?
Here is an example...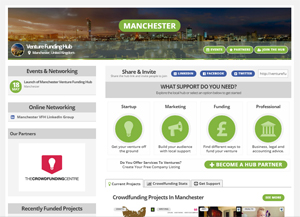 See More Here
How Do They Work?
Entrepreneurs are inspired by, and learn best from, other entrepreneurs.

Hubs are open, entrepreneur-centric and aimed at helping get fundable and find the right funding by providing:

Inspiration - showcasing success stories and lighting-the-way
Information - signposting, mapping and tools to help cut through the funding jungle
Connections - It's not just what you know it's also who you are connected to too!
So catalysing a local entrepreneurial ecosystem
How Do We Get A Funding Hub Here?
First register and check at FundingHubs.com/hubs to see if there's already one to join in your area.
Also check out the LinkedIn Group FundingHubs to see if one's planned or to find others interested.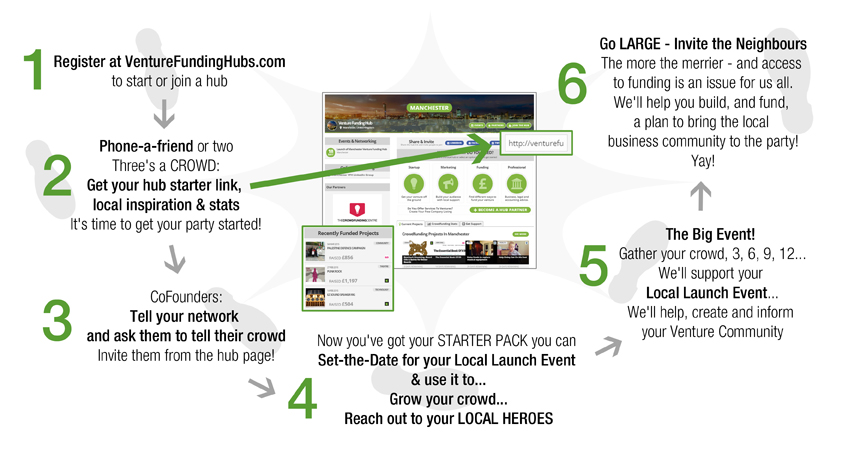 Why Would I Want To Start One?
Raise your profile – showcase your expertise & become the local expert
Help local businesses find funding – including your own
Connect with those who need your skills, on the right basis
Gain additional experience & new skills for funding, modern marketing & crowdfunding
Help Kickstart Crowdfunding locally
Grow your own local network – plus all the benefits below
Why Would I Join One?
Benefit from being part of a vibrant community of mutually supportive entrepreneurs

Become a co-founder & Help launch a hub?
Showcase your expertise, talents and leadership helping create a vibrant community of mutually supportive entrepreneurs.

What's involved
Firstly do what you're already doing to support entrepreneurs locally and otherwise - but more effectively with the help of a network.

Secondly help find and alert other co-founders in your locale - you probably already know them. Pick up the phone.

Finally: work with them to set a date and get the first meeting together - with help from us.

Three's a crowd - so as soon as you have three co-founders we'll create your starter-hub - so you can show your crowd and help gather people, send you an info-pack and support you in getting your first event together!

We'll keep your hub open to new co-founders until your first event - or until you ask us to close the list.


Find funding – and the help you need to get it
Learn

About crowdfunding + how to access other forms of finance
Get valuable feedback on your crowdfund, venture or idea
Pitch – and get the oxygen of feedback, insights & inspiration

Find support & get exposure for your crowdfund, business or both
Matchmaking

Find the skills & experience you need to tap into to succeed
Connect with those who need your skills – now and in the future

Grow your own local network
Have another question?
Contact us at contact[a]fundinghubs.com